Now that it's October, and there are exactly 30 days left until Halloween, it's time to put up your holiday decorations. Even better, you can save money—and have something fun to do—when you try out these great DIY outdoor Halloween decorations. Which ones will you put in your yard?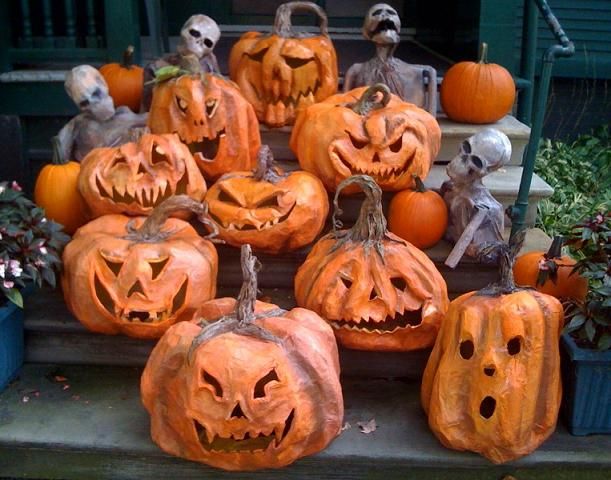 (Source: Pinterest)
Create a Papier-Mâché Pumpkin
Don't want to spend a ton of money each year on pumpkins? Make some out of papier-mâché. All you have to do is blow up a balloon and layer it with this crafty substance. Then, when it's finished—and dry—paint it over. Pop the balloon and you've got your own beautiful pumpkin. If you want to add a stem, you can make one out of the same material, attaching it with high-strength glue. Make sure that you use art paste and keep the finished crafts away from water to ensure that they have a long shelf-life.
(Source: Homestead Real Estate)
Make a Friendly Figure—Or A Fearsome One
Buying a store scarecrow can cost far too much money, especially because you can make one at home just as easily. Simply attach planks of wood together—or use a rake, which will give your figure a charming head—and anchor them securely to the ground. As alternative, stuff straw together and anchor it to a pole. If your figure needs a face, you can use a small pillow, carved pumpkin, or plastic mask. Now comes time for the fun part! Dress up your creature however you like, using old clothes or used clothing store finds. This is an especially fun activity for children—and you can give your new friend an outfit change whenever you want.
(Source: Party Pieces)
Decorate Your Pumpkins Differently
Whether you prefer not to use sharp objects, or you have young kids who want to decorate, this idea will help you make memorable DIY outdoor Halloween decorations. You can give your kids permanent markers to draw on their pumpkins or paint to make their own orange canvases. You can also help them glue on fake jewels, glitter, and even cat whiskers make from twigs or straw. Then, place them on your porch and admire your unique work.
(Source: Pinterest)
Make a Mummy
If your child has an old doll that he or she does not want anymore, you can make a mini mummy. Get an old white shirt or towel. Then, cut it into strips and wrap up the doll. If you want to make the fabric look aged, splash a tiny bit of tea on it. When you're finished, put it on the porch to greet visitors.
(Source: Taryn Whiteaker)
Last-Minute Spiders and Ghosts
It's the afternoon of Halloween, and you have nothing up to celebrate. Get an old white shirt, as well as an old black shirt. Also get rubber bands or hair ties. Finally, for stuffing material, grab some tissues. Cut the shirts into squares. For the ghosts, stuff the white shirts and tie off the ghost at its "head." You can add googly eyes or features with markers if needed. As for the spiders, stuff the black shirt squares, also tying them off where the head would be. Then, cut out eight legs from the loose fabric at the bottom. You can attach them with string or hang them freely. Now, you have two types of spooky creatures to decorate your yard.
Conclusion
DIY outdoor Halloween decorations allow you to give a special touch to your yard just in time for the creepiest holiday of all. Whether you choose mummies, scarecrows, or ghosts, you can create the right figures to give your yard the proper spooky ambience. Happy Halloween!
If you're searching for the perfect place to celebrate Halloween—and all your other favorite holidays—Ryan Roberts can lead you to your ideal residence, or help you sell your old one. For more on the homes for sale in the Auburn, Opelika, and Lake Martin area, call him at (334) 750-9872 or email him at [email protected]. You can also check out our blog for more about the local scene and the homes you can find there.