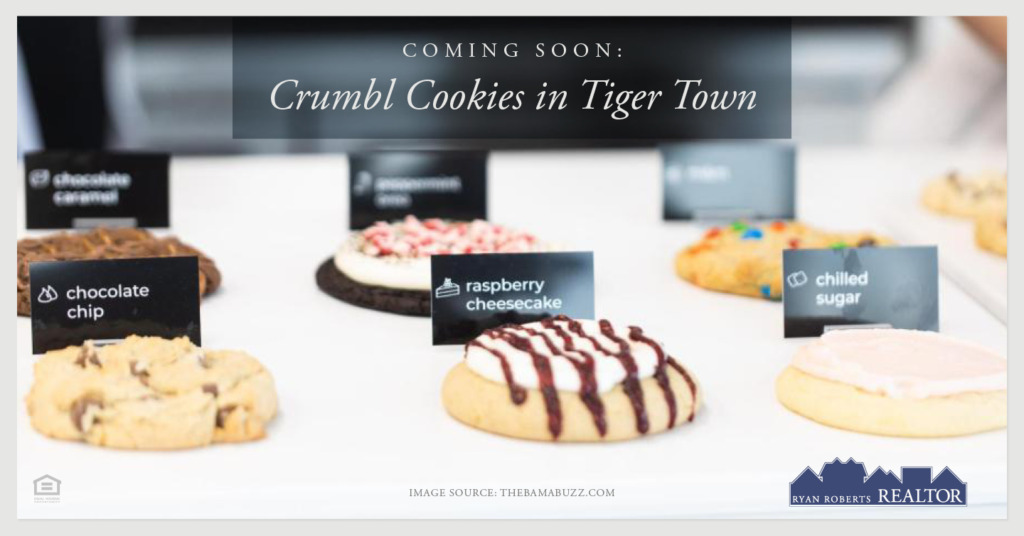 Calling all cookie monsters! Get ready to cookie like no other when Crumbl Cookies in Tiger Town officially opens its doors this spring!
Follow those cookies
The nation's fastest-growing cookie company is making its way to the Loveliest Village on the Plains. Crumbl Cookies in Tiger Town is expected to open at 2638 Enterprise Drive in Opelika in early spring.
This will be the fifth location in the state of Alabama for Crumbl Cookies. The other locations are in Daphne, Jones Valley, Madison and Vestavia Hills.
More about

Crumbl

Cookies
Founded by cousins Jason McGowan and Sawyer Hemsley, Crumbl Cookies opened the first store in Logan, Utah in 2017. Today there are more than 300 stores in 36 states, according to the website.
The cousins were on a mission to find the "perfect cookie." After lots of mixing, baking, tasting, scratch that and try again, the duo discovered what they describe as "the world's best chocolate chip cookie."
For a while, the made-fresh, served-warm chocolate chip cookie was the only cookie. From there, another semi-permanent cookie was added—the Classic Pink Sugar, served chilled.
But thanks to popular demand, other recipes based on customer feedback, requests, cakes, pies and lots of flavors have sincebeen created.
In fact, Crumbl Cookies has more than 200 flavors and cookie recipes in rotation. But don't expect them all at one time.
One fun feature that is sure to be a hit at Crumbl Cookies in Tiger Town is the rotating menu. Each week visitors will delight in finding out what flavors will be offered.
While you can always count on the signature chocolate chip cookie, four to five choices will change every week.
For example, at the moment if you popped into one of the manybakeries located across the country, you'd find the two classics plus four more options.
Those include the Banana Cream Pie, Chocolate ft. Oreo, Ultimate Peanut Butter and Ruby Chocolate Chip.
How to enjoy
With milk, of course! Seriously, since you never know when a "Crumbl craving" will hit, there are plenty of ways to order these sweet treats.
First, there is always in-person at the counter in the store. Second, order ahead for curbside pick-up. Third, never leave the comfort of home and have them delivered straight to your door!
Finally, they do have nationwide shipping available too.
In the meantime, find Crumbl Cookies on Facebook, Twitter, Instagram and TikTok and enjoy those sweet images, news and announcements.
Summary
Are you looking for a sweet spot of your own before spring? Contact Ryan Roberts today to help with all of your local real estate needs, from buying to selling to both! For more community news continue to browse our blogs!