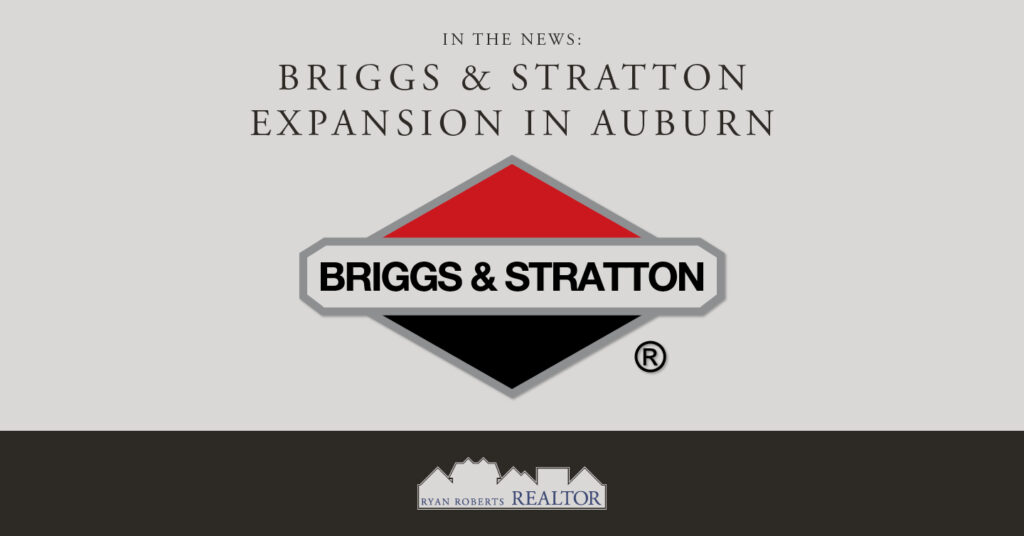 One of the most exciting offerings the new year brings? Possibilities! New skills, new homes, new jobs, and more—2021 is all about the potential for growth. Well, we can already tell that our local economy will benefit from exhilarating changes in the coming 12 months. With a Briggs & Stratton expansion in Auburn on the horizon, our town can expect an exciting boost.
What is Briggs & Stratton?
If the name sounds familiar, but you just can't remember why, don't worry—we'll fill you in. Briggs & Stratton sells generators, small engine machines, mowers, and more. They've also run a plant in Auburn for more than 25 years! There, the company manufactures engines for the V-Twin Vanguard, which powers machines like aircrafts.
More on the Briggs & Stratton Expansion
Locals have already benefitted from the jobs created by Briggs & Stratton. Soon, current employees can expect some new coworkers! The project will net an additional 34 to 35 new jobs during 2021. Plus, the company plans to spend $9.4 million dollars on their expansion, which includes purchasing new equipment and adding another assembly line to the mix.
What does this news mean for our local economy?
The upcoming Briggs & Stratton expansion in Auburn means our local economy can anticipate a nice boost. The labor it costs to install machines and an assembly line will funnel money into the pockets of local workers. Additionally, the new jobs will stimulate cash flow, as well as help people in our town make a comfortable life for their households. Now that's not a bad way to start off 2021!
Where is the Briggs & Stratton facility?
Next time you drive past Auburn Technology Park South, look out for Briggs & Stratton! Their Auburn location sits at 150 Technology Parkway.
Summary
We're only about three weeks into the new year, but already, our town has received a sizable portion of good news. Amazing changes will arrive in our city thanks to the planned Briggs & Stratton expansion in Auburn. We can't wait to see the progress it will bring!
Ryan Roberts also has some good news for you too! Whether you're buying or selling, he has the expertise and knowledge to help you navigate the real estate market in Auburn, Opelika, and Martin. Get started today!
Wondering what other updates the year has in store? Check back with our blog for news, spotlights, and more!