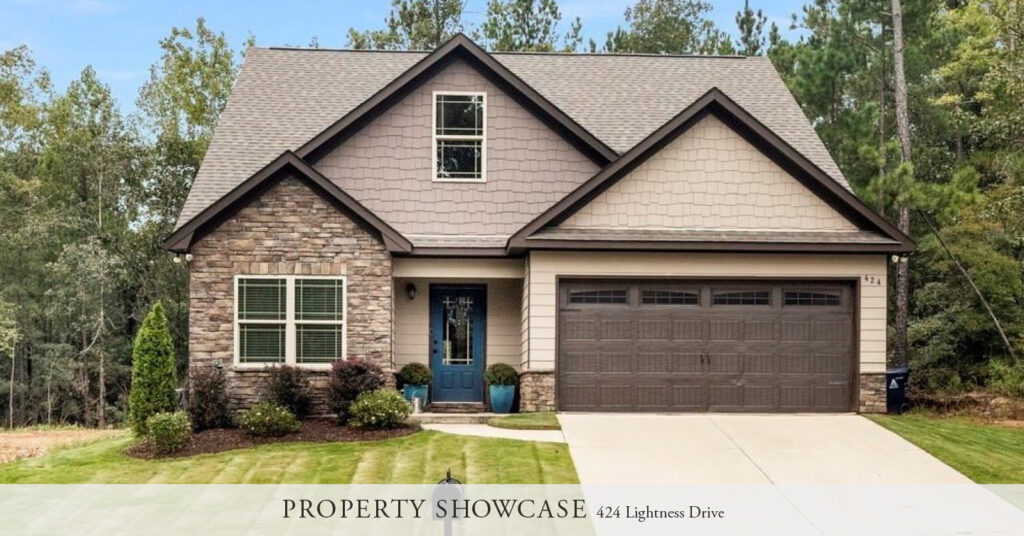 Brighter days await you at 424 Lightness Drive. Let us illuminate you on why this four-bedroom, three-bathroom Auburn, Alabama home is such a catch. And if you think it's the right house for you, it's on the market now for $265,000.
Top Features
You have great first impressions down pat at 424 Lightness Drive. With its lovely yard and gorgeous stonework, this home is easy on the eyes—no need to wear shades. As you step inside, you'll see that its stunning style holds up throughout the whole property.
This home features an open floor plan—a coveted standard in most modern houses! Its vaulted ceilings add an airy, welcoming atmosphere to the place. You'll notice this amenity in the spacious living room. Next, it's on to the incredible kitchen. There, you'll find granite countertops, a double door refrigerator, and several great lighting fixtures. Once your meals are ready, you can take them in the dining room or to the kitchen's bar seating.
Wondering about the bedrooms and bathrooms? First off is the master suite! The bedroom is generously-sized and includes two large windows. As for the master bathroom, get ready for some relaxing! It boasts a double vanity, additional counter space, a soaking tub, and a separate shower.
The remaining bedrooms and bathrooms deserve some attention too! Each bedroom is carpeted and comes with a fan. The bathrooms sport stylish vanities with granite countertops.
Finally, let's list a few of the notable distinct features this home includes. Crown molding, natural lighting, and on-trend paint—it looks great from any angle. Plus, it also has a helpful laundry room, as well as a back patio with an outdoor fireplace.
Location
You'll find 424 Lightness Drive in the Solamare subdivison, which is near the intersection of Shug Jordan Parkway and Alabama State Route 14. Both Downtown Auburn and Auburn University are just a quick drive away! You can also find groceries and other necessities at nearby Publix or Wal-Mart.
See More Photos
Say "hello" to all that 424 Lightness Drive has to offer by viewing more photos here.
Summary
We all have a dream of what our home sweet home looks like! If 424 Lightness Drive fits the bill, contact Ryan Roberts here. Still searching for the perfect place or thinking of selling your old one? Ryan has experience in the Auburn, Opelika, and Lake Martin area—and he's ready to help you. You can also see more of our property showcases on our blog too!