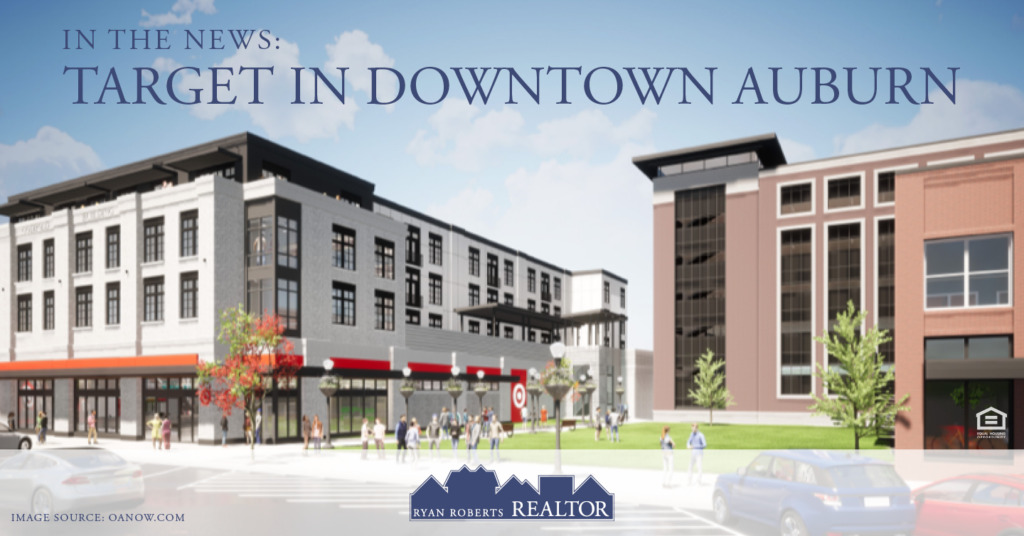 We know the new year just started, but we're already excited about what's coming to our city next spring! Before we know it, Target in Downtown Auburn will be open and shoppers can "Expect more. Pay less."
The Details
According to recent reports, Target in Downtown Auburn will take up the entire ground floor of what will be known as the Godbold Building on North College Street.
Originally, plans were presented to the City of Auburn'sDowntown Design Review Committee in April 2021. After initial review and feedback, owner Chris Godbold and JNS Realty went back to the drawing board.
Last month, Godbold presented revised plans and announced that Target had just confirmed they would be the retail tenant. As far as plan adjustments go, the team decided to go from constructing a 75-foot building to a 55-foot building.
The number of proposed residential units also decreased. Initially, plans included more than 110 units. Now, there will be about 32 market-rate apartments—mostly two-bed, two-bath places—on floors two through four.
An upper parking deck was removed, and street parking was added as well as an exterior adjustment. To begin with, plans included red brick, but the façade will now feature white brick instead.
There will be a well-lit pedestrian walkway between the building and the Wright Street Parking Deck for easy access to downtown, campus and the building.
Overall, the adjustments were made for two reasons. First, the main objective was blending with and complementing existing downtown buildings. Second, it lowered the cost of construction.
Wondering what's next? A ground breaking is expected sometime this month.
Location
Target in Downtown Auburn will be officially located at 129 North College St. Technically, it will be between Five Guys and the Wright Street Parking Deck.
The projected completion date is the Spring of 2023.
Summary
Meanwhile, the time to find your new home in the East Alabamaarea is now! If you are ready to get started but don't know how, contact Ryan today. For more community news, keep reading our blogs!