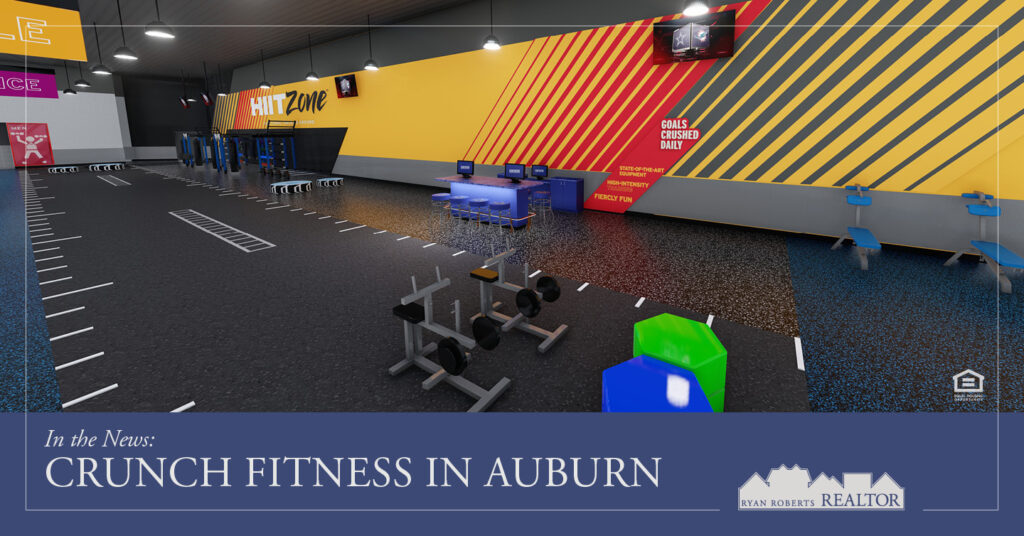 What will you be doing in November? Finishing off that Halloween candy, preparing the Thanksgiving turkey, and getting ready for all those holiday treats…everyone deserves to indulge a bit. And if you're worried about getting a workout in during those busy months, don't stress. Crunch Fitness in Auburn opens in November at the Market Square Shopping Center—just in time for you to conquer the sweetest season of the year.
About Crunch Fitness
Crunch Fitness isn't just about workouts. They also care about your overall health! Starting with their one-hour-long Crunchzone Kickoff goals planning session, they'll help you chart a course to your personal fitness goals. And when you need to unwind after, they have that covered too with their sauna and their full body hydromassages.
Some of their other features include:
Ride classes;
Tanning booths and spray tanning;
Cardio machines;
3-D body scans;
HIIT workouts in the HIITZONE;
The ability to bring one guest free during every visit;
Kids' babysitting;
And more.
The arrival of Crunch Fitness in Auburn
If you want a gym that has it all, Crunch Fitness in Auburn will be the perfect fit. It has a projected opening of later this year at 1716 Opelika Road, taking up residence in the previous Pier One and Office Depot buildings.
Sprawling across 40,000-square-feet, this center will come with state-of-the-art equipment. The full cost? $5 million!
Sign-up details
Though it's worth a lot, you don't have to worry about pricing. Right now, you can put down a deposit for only $1! Not to mention, your first month will come free! As for the memberships, they cost as little as $9.99 per month.
Sign-ups will open this fall. So, keep your eyes peeled!
The online experience
Some of us want to get back to working out—but we don't want to actually go to the gym. Well, Crunch Fitness also offers an online experience! You can sign up for live virtual workouts, as well as their online nutrition program. That way, you can stay healthy without any worries.
Summary
Don't find yourself in a calorie-counting crunch. Instead, find yourself at Crunch Fitness in Auburn! From working out to unwinding, you can find peace of body—and mind—later this year.
Getting fit is a big journey! We know another one well: moving! Whether you need to buy, sell, or both, Ryan Roberts can help. Contact him today. Finally, for more on local news, check out our blog here