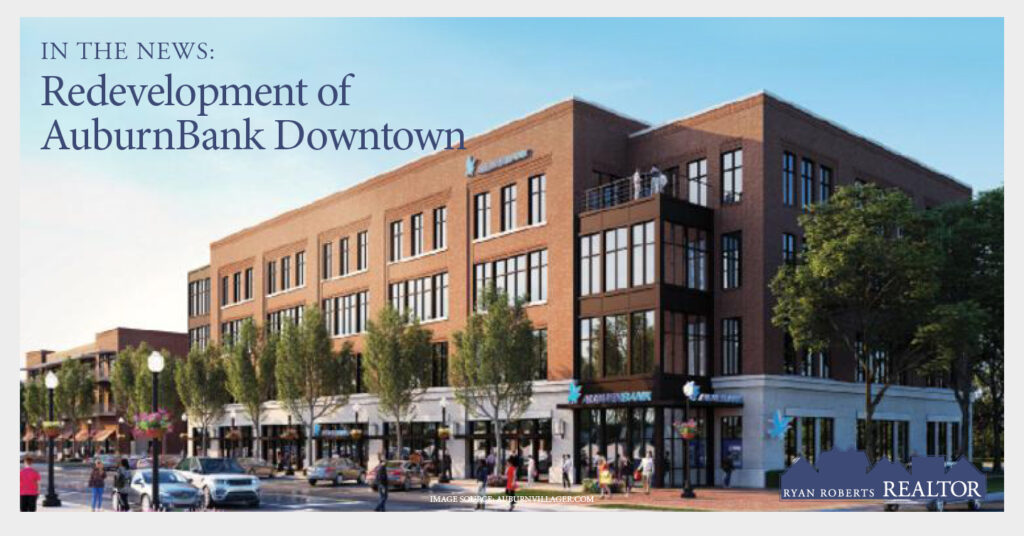 Downtown Auburn never likes to stay still! Whenever you stop by, you probably wonder what's next for the area. Today, we're going into detail on what some of the hustle and bustle means for the redevelopment of AuburnBank downtown.
What is AuburnBank?
AuburnBank has been around since 1907. During those days, our town was much smaller and Auburn University was called the "Alabama Polytechnic Institute" instead.
You may know one of the bank's founders—none other than Shel Toomer, who owned the now-iconic Toomer's Drugs. Over the years, our town has gotten bigger—and the customer base has grown for AuburnBank too.
That means it's time for an expansion! The new redevelopment will help AuburnBank serve more clients and keep our community thriving.
What will the redevelopment of AuburnBank downtown bring?
The redevelopment of AuburnBank in Downtown Auburn involves the construction of a new, four-story building for the bank on its property at the intersection of Gay Street and Magnolia Avenue. The 96,000-square-foot building will also help streamline AuburnBank by housing both the bank's operations and retail banking together, whereas previously they were in separate structures.
As of now, the redevelopment of AuburnBank downtown is in phase one, which will include the addition of a 535-space parking deck on the current bank property fronting Burton Street.
Like to shop or dine at delicious restaurants? You'll love this next part—the redevelopment will also create room for new businesses! The new building will offer 46,000 square feet of retail frontage along Gay Street.
When will phase one the redevelopment be completed?
Currently, the redevelopment is scheduled for full completion towards the end of 2021. We wonder what new stores and restaurants will arrive in the area!
Summary
AuburnBank has been a part of the fabric of our community for more than a century. With the redevelopment of AuburnBank downtown, it looks like our town will continue to grow, bringing new jobs, shops, and businesses to the area. We can't wait to see what our wonderful city will look like in just a little over a year.
Want to learn more about local news? Visit our blog. Hoping to find an experienced Realtor in the Auburn, Opelika, and Lake Martin area? Fill out our contact form here.