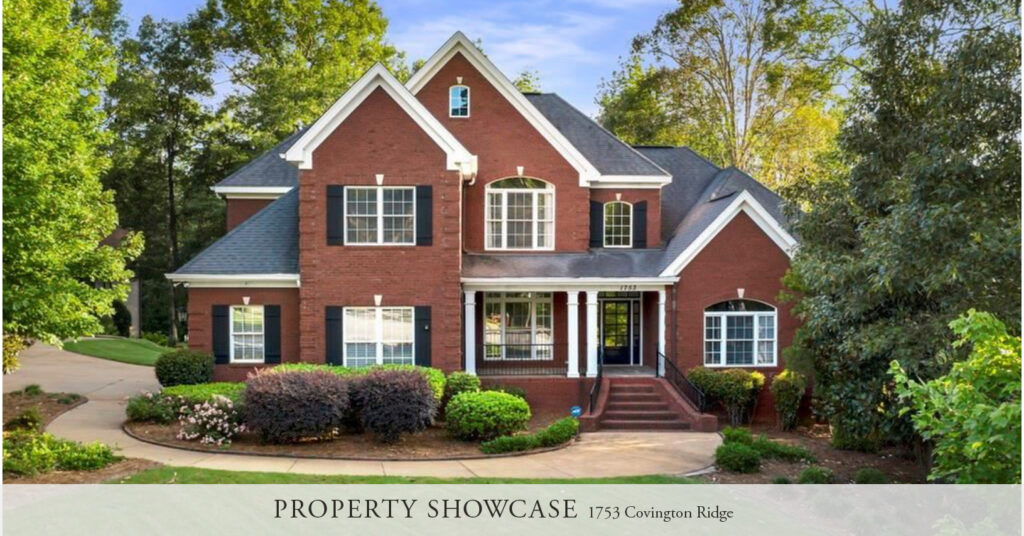 With one look at 1753 Covington Ridge, you know you're home. This exquisite five-bedroom, five-bathroom home could be yours for $699,900. Want to explore for a bit? Read on to learn more about this amazing Auburn property.
Top Features
Curb appeal sets 1753 Covington Ridge apart from the very first sighting. It rests on a corner lot, surrounded by gorgeous trees and well-maintained landscaping. The driveway is large, giving you plenty of space to park and pivot.
As you follow the sidewalk and step inside, prepare to be impressed. This home has a whole lot of style! From transom windows, to hardwood floors, to high ceilings, you'll find beauty in the everyday at 1753 Covington Ridge. Once you're inside, you'll be greeted with an elegant foyer, complete with a chandelier. Nearby, you can find the formal dining room.
Next, it's on to the living room. It features a fireplace and lots of natural lighting. You can take a few steps further to see the spacious kitchen. It boasts generous cabinet space, double ovens, stylish lighting fixtures, and more. Plus, there's a walk-in pantry nearby too. As for your meals, you can take them in the dining room, at the kitchen bar, or in the breakfast nook. The house also includes a keeping room, which can serve as a second living space—or you can turn into something new!
This home has five amazing bedrooms and bathrooms—including the master suite. There, you'll find radiant natural lighting and lots of floorspace. You'll also love the cabinet space and double sinks in the master bathroom, as well as the jetted tub and standing shower.
What about the downstairs area? Have fun to your heart's delight in the enormous basement. It features a den, a fireplace, and a giant living area. The basement includes a kitchenette too!
We can't forget about the deck! It offers quite a bit of space—and a great view too. You'll love the vast backyard, which you can easily make your own.
This home comes with two attached garages. It also allows access to the neighborhood pool, perfect for summer swims.
Location
You can find 1753 Covington Ridge in the Moore's Mill subdivision. It's right by US-29 and Moore's Mill Road. Nearby shopping and dining opportunities abound at Opelika's Tiger Town shopping center. You're also just a short drive away from Downtown Auburn!
See More Photos
Intrigued? Click here to see more photos of 1753 Covington Ridge.
Summary
You may have just found your home sweet home: 1753 Covington Ridge. If you want to learn more about this Auburn property—or if you want to put in an offer—contact Ryan Roberts here. He can also help you buy, sell, or both in the Auburn, Opelika, and Lake Martin area. Finally, visit our blog to read up other property showcases, local news, real estate tips, and more.