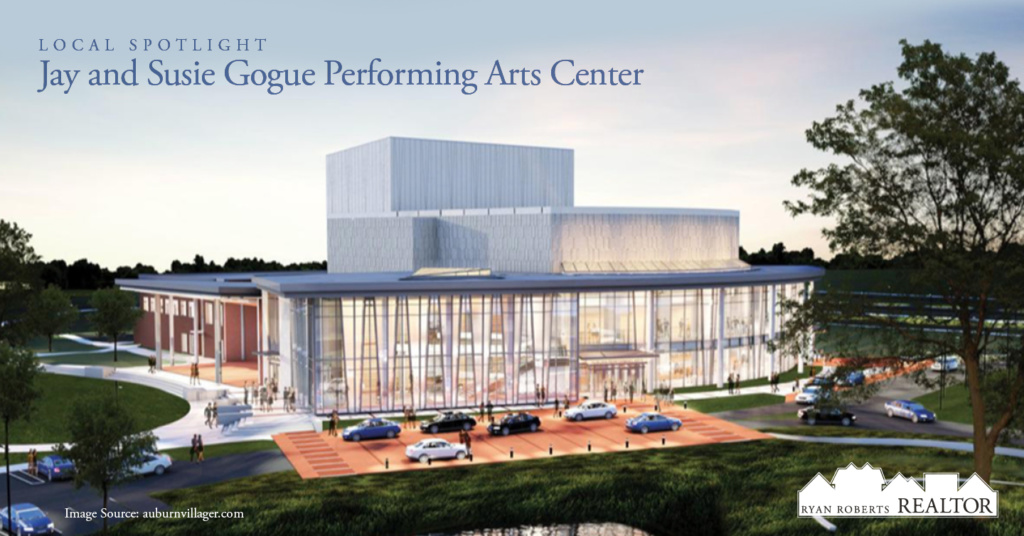 Driving for hours to see a concert or enjoy a show? Not in Lee County! Locals have been loving the Jay and Susie Gogue Performing Arts Center—and it's easy to see why. If you've driven by and keep meaning to learn more about this new addition, read on! We're taking you on a mini tour of this amazing Auburn institution.
What is the Jay and Susie Gogue Performing Arts Center?
The Jay and Susie Gogue Performing Arts Center offers a venue for performers far and wide to appear on-stage in Auburn. Dancers, singers, actors, and much more—they all have a place in town. Even better, locals can see sensational shows without having to travel.
The Center features two different theaters. The first is the Amphitheatre at the City of Auburn Lawn and Porch, which can seat 3,500 people. The second is the Woltosz Theatre, which has room for 1,202 audience members.
Though the Gogue Performing Arts Center recently opened to the public in 2019, it's already seen a ton of incredible performers. There are more to come too, like The Beach Boys, Baby Shark Live, and a performance of "Waitress." Wondering what other exciting shows are on the horizon? Check out the upcoming schedule here—and get your tickets online too!
Visiting Details
If you're hoping to buy tickets to a show, there are three ways to get them. The first is to get them online here. The second is to call the box office at 334-844-8497. Finally, you can visit the box office in-person, Tuesday through Friday from 10 a.m. to 5 p.m. Remember: tickets sell out quickly, so buy them as soon as possible!
Now that you have your tickets, it's time to learn where to go! The Gogue Performing Arts Center is located at 910 S. College St. in Auburn. Make sure to arrive ahead of the show so that you can park and find your seat before the curtain opens!
Summary
The Jay and Susie Gogue Performing Arts Center is just one of the many draws that Auburn has to offer! If you want to move to town, we have great news for you: Ryan Roberts is an experience Realtor, and he's at your service. He can also help you buy, sell, or both in the Auburn, Lake Martin, and Opelika area. Fill out our contact form to get started! Plus, to see more local spotlights, visit our blog!